Confidence and Happiness equals Radiance, and that's what makes a bride beautiful on her wedding day. But before that there is the preparation which requires focus and attention to detail, details such how to find the perfect wedding dress for you.
Before going to a bridal shop, you have to do your homework first because most bridal shop appointments only last an hour. So, the homework is to know thyself, know your body shape and this will be your guideline on what silhouette that suits you that will emphasize your best body feature and camouflage your least favorite parts.
For brides with boyish or slender figures, an A line wedding dress will create the perception of curves. To capitalize on that slender frame, a column wedding gown will emphasize the frame. Strap or no strap is good, this is the best time to show some skin with lacy strap details and a little back exposure.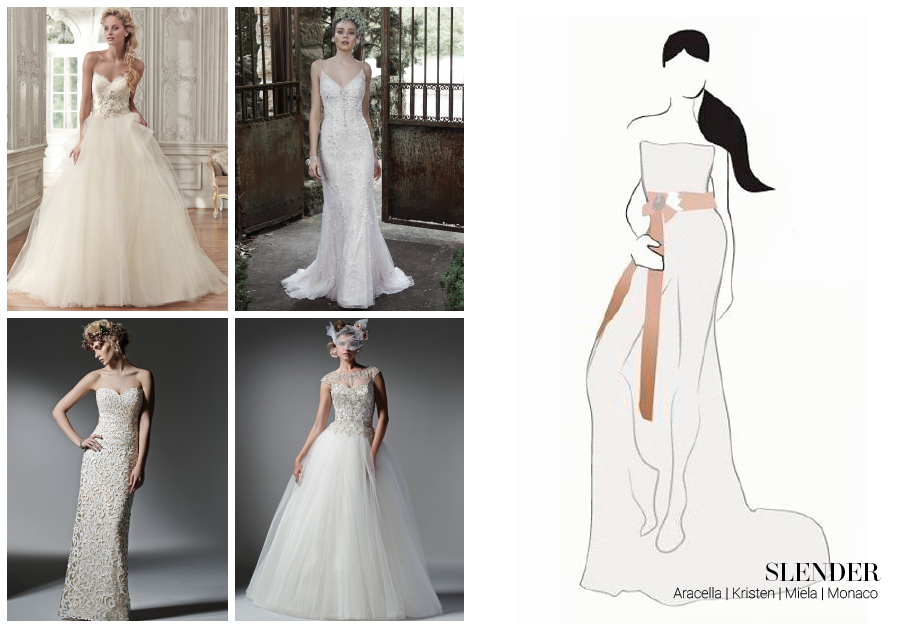 For women with an apple shape frame, a full skirt will balance your upper body. Now if you don't want to hide those gorgeous shoulders, a one strap number will give you the illusion of coverage but still emphasize the shoulders. A corset will give the best support without looking bulky. For a more daring look with class and style, sweetheart neckline still emphasize your best assets without these spilling over.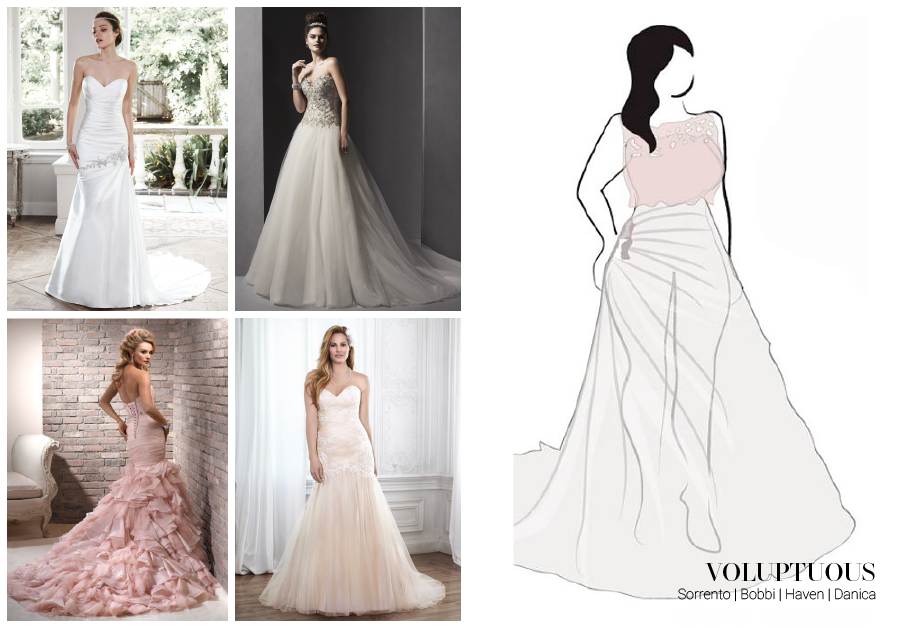 For the pear shaped woman, the best style is an A line gown which flares from the hips down to the legs, this will emphasize the slender waist without drawing too much attention on the butt and thighs. Highlight the slender upper body by a V-neckline or thin spaghetti straps.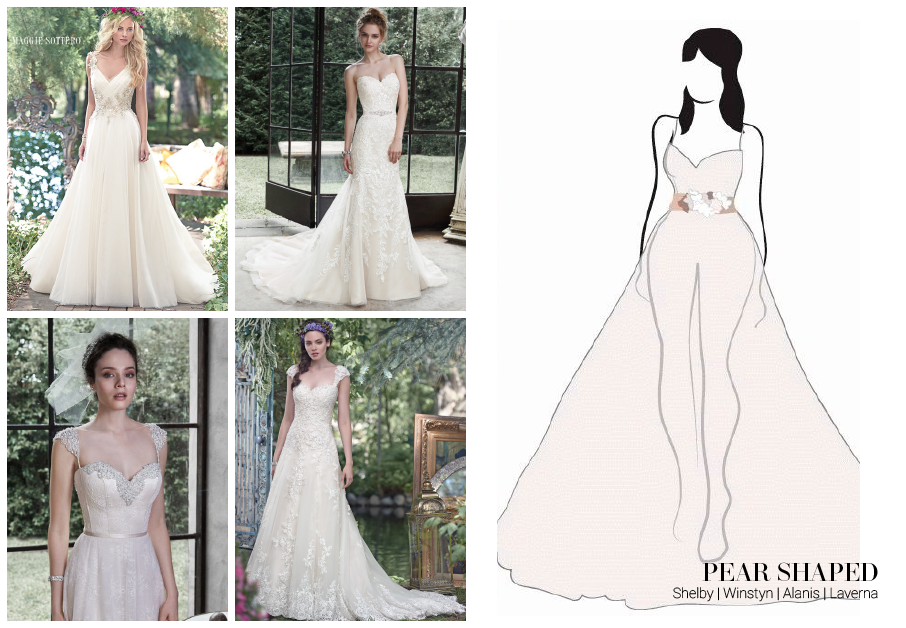 The perfect hourglass figured women would want to show off their curves. A mermaid dress can emphasize that figure. An hourglass figure can get away with anything so don't limit, try A line and column wedding dresses as well.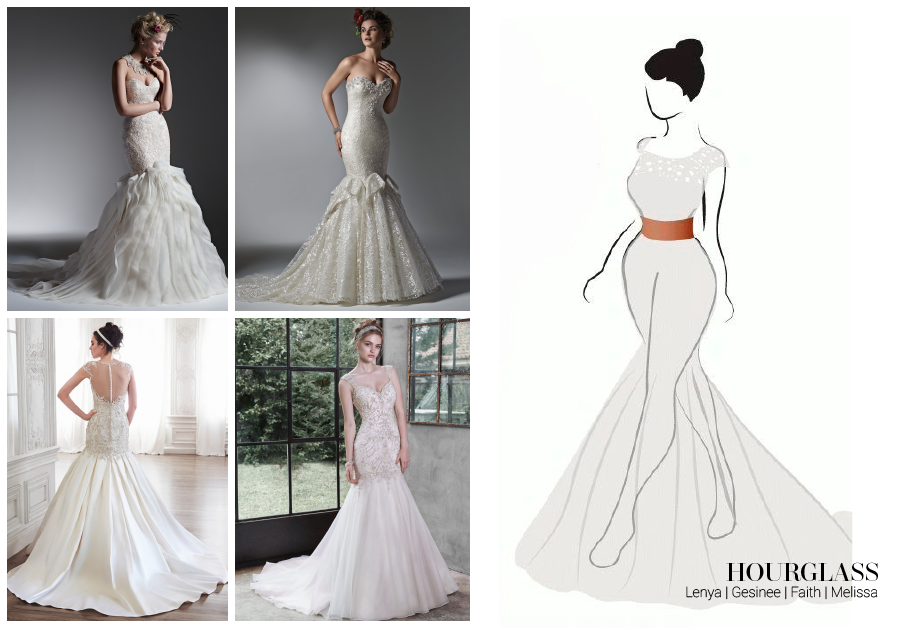 For brides with large chests, a one shoulder treatment and corset back adds additional support. Love the look of a strapless gown? Opt for a wedding dress with a sweetheart neckline to draw attention to your face and display your decolletage, without revealing too much. A gown with a full skirt will help balance your frame.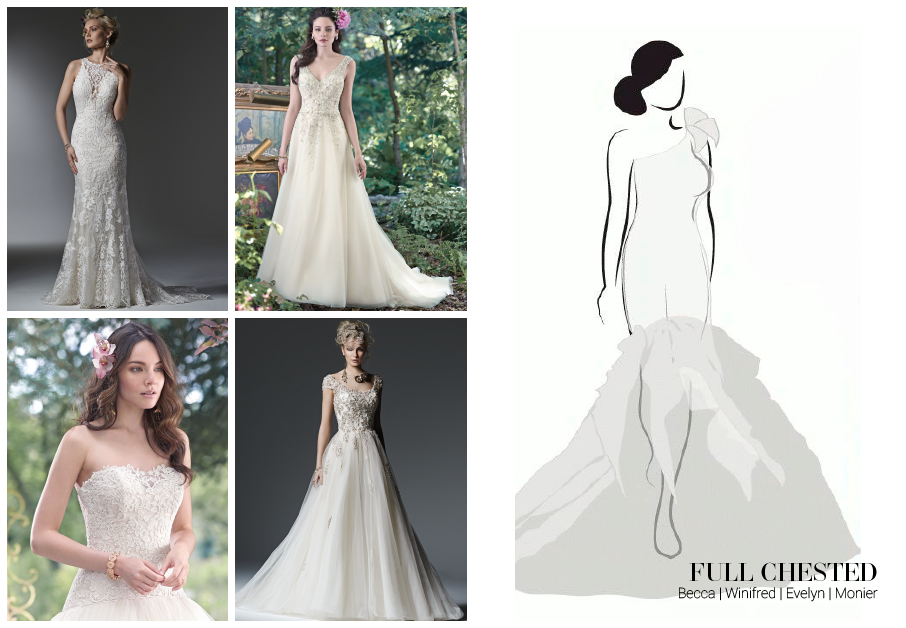 Remember, you are the star of the wedding. But more importantly you will be walking, dancing and sitting down to eat so choose a dress that will be comfortable enough to move about and give you confidence while doing all these. Have fun looking for the perfect wedding dress.