If you think back on your childhood, wearing a fabulous dress on your First Holy Communion day is definitely one of the most defining memories with regards to fashion. We believe that every communion dress should be as special and individual as the little girl wearing it, and our collection definitely reflects this.
Taking inspiration from popular trends in the bridal industry, each of these little dresses have been masterfully crafted, made of the finest materials, and scaled down to reflect the innocence and modesty this significant rite of passage represents.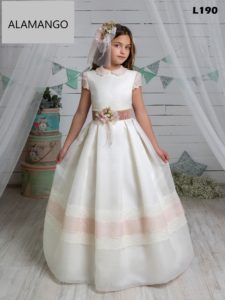 If you've lived here all your life, then selecting the perfect Holy Communion Dress is a well-known and loved tradition. If you happen to new to Maltese culture, then we'd be honoured to guide you along your journey in celebrating your daughter's Holy Communion in Malta.
In terms of trends, even though the classic white dress will always prevail, recent years have also seen the introduction of softer colours such as ivory and blush appearing gradually.
Having said so, 2021 takes things to a whole new level with fresh nuances of pastel colours emerging throughout the latest collections. From minimal accents, to larger colour blocks, these touches of colour are becoming an increasingly popular choice for Holy Communion dresses, offering a completely fresh take on the traditional dress.
Apart from being made using high quality materials with a strong attention to detail with regards to finishing, these extremely creative and colourful dresses are also imported in limited quantities, which means that there's a higher chance of selecting a dress that's truly unique.
As far as accessories go, we've seen the traditional veils and gloves returning for another season, along with possibility of creating a custom face mask should the need arise. It's your little girl's time to shine, and we'd be more than pleased to share our expertise and advice.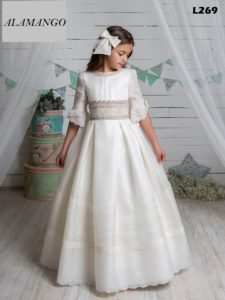 As for yourself, our expert designers and seamstresses at Alamango Tailoring are able to help you create a bespoke outfit that's been specifically designed for the occasion. From luxurious fabrics to unique details, we're able to design and tailor a one-of-a-kind outfit that's been created to fit you perfectly.
Once again, additional accessories such as fascinators and facemasks may also be customised to finish off your look.
Make this day special and memorable for yourself and your little one. Book a private appointment at Alamango Bridal and Textiles by giving us a call on (+356) 2131 4331 or send us a private message on Facebook.