When it comes to really special occasions, off the rack just isn't enough – here's where custom made dresses come into play. Designed and tailored entirely around your style, body shape, occasion, and budget haute couture is even more accessible than you'd have imagined.
The good news here is that apart from being in very good hands at Alamango Bridal & Textiles, you've also got the peace of mind in knowing that if the final product doesn't live up to your expectations, we offer a money-back guarantee. Ever wondered what it might be like to commission a tailored dress at an establishment like ours? Here's what to expect: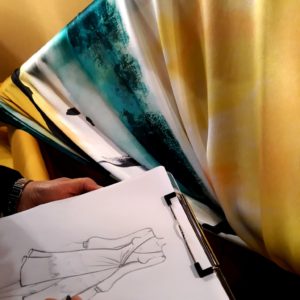 1. It all starts with an idea
Whether you've got your dream wedding dress in mind, or would like to commission a tailored dress for a special occasion, we've got you. With decades of experience in tailoring and textiles, Josef and his team are a phone call away from beginning this journey with you.
2. The dream begins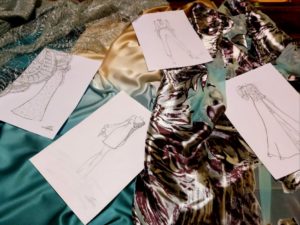 To kick things off, you'll meet up for a consultation where you'll be encouraged to bring forward any ideas you might already have. Here, the design team is able to guide you through this process, offering suggestions and custom designs as well as assessing all options with regards to materials that will best flatter your body shape, while remaining within your expected budget.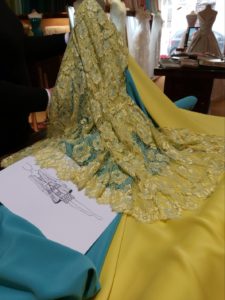 3. Colour, colour, colour

Once the design team have a good idea of what you might have in mind, it's time to pick that perfect tone. For occasion dresses, this year's Pantone charts for spring/summer 2021 for instance call for some bold, bright, beautiful oranges, blues, yellows, and reds, along with greens, corals and deep pinks and purples.
On the more classic side, this year's colours include a charming scale which includes black, grey, off-white, along with some gorgeous earthy tones.
4. It's all about texture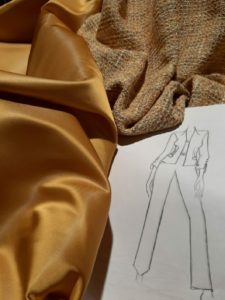 Your choice of textile will determine the complete feel of the dress – from stiff panels, to flowing trains, the options are endless, and the good news here is that you're in really good hands. When it comes to bridal, as well as couture gowns, this year is definitely big on French lace, beaded fabrics, brocades, and beautiful printed silks.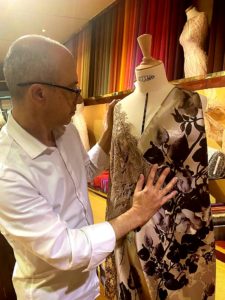 5. Breathing life
Once both you and the design team are on the same page with regards to your expectations for your tailored dress, the Alamango Textiles team will design and present illustrations based on your discussions. Once the final design and textile choice has been approved, your measurements will then be taken and this information is passed on to the tailoring department where you'll be assigned an expert seamstress.
6. The magic happens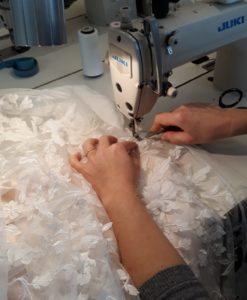 From then, our seamstress will produce a first draft of your dress and you'll be called in to try it on. At this stage, any minor changes or alterations may be carried out in order to fully embody the dream dress you had in mind, before allowing our seamstresses to work their magic.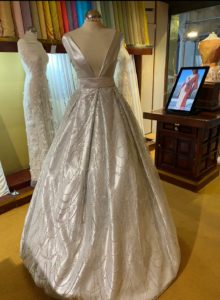 7. A three-month guarantee
No one wants to stress about their dress any time close to their big day. For this reason, we guarantee that your custom-made dress is always ready at least three months before. This will give you a more realistic timeframe in which to commission any additional alterations should they be necessary. Any size-related alterations may also be carried out during this time completely for free.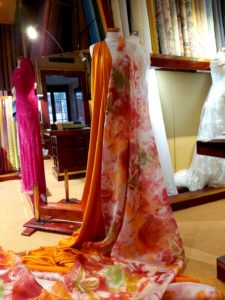 8. Your time to shine

Once every last detail has been taken care of, and your dream dress has finally reached its full circle from concept to completion, it's now your time to shine – and if you aren't completely satisfied with the final result, then we offer a 100% money back guarantee.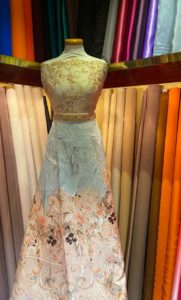 9. A custom-made experience
If you've got something specific in mind, you've really got nothing to lose by getting in touch and finding out how to transform your vision into a reality. The entire process that comes about with a tailored dress is quite fascinating, and we'd like to believe that our friendly and personalised service will enhance this experience further.
Whatever the occasion, style, or budget, there's a good chance that we've got a bespoke solution for you. Give us a call on +356 79 314 331 or get in touch via email or Facebook should you be interested in exploring any ideas further – it really is that simple!